An improper balance of aquatic vegetation interferes with man's ability to appreciate and enjoy water, as well as nature's ability to support a diversity of wetland habitats. Exotic aquatic weeds are biologically polluting our valuable wetlands. These invasive plants also interfere wildlife nesting, fish populations, and property values. TurnPro Aquatics provides an answer to these problems!!
John Turner
CEO / New Sales (since 2009)
John is an aquatic specialist and the CEO of TurnPro Aquatics. John runs the operations of the company after spending the first three years of the business in the boat servicing the ponds first hand. John started the business in 2009 after successful 22 year career as Boy Scout executive.
Justin Howard
Aquatic Systems Engineer
Systems specialist since 2016
Justin is our Aquatic Systems Engineer covering all Oklahoma and Arkansas and a member of our team since in 2016. Justin has a degree in Mechanical Engineering Technology from Oklahoma State University. Prior to joining the team he was a home builder for 13yrs. Justin is an avid sailor and enjoys spending as much time as possible on the water. He oversees and is hands on all of our clients fountains, aerations systems and circulators needs, weather general service or repair work. Adding Justin to our staff provides higher quality service, lower cost and quicker response to our clients needs as we are now in house for this department.
Mitchell Lockhart
Operations Director / Manager Eastern OK
Aquatic specialist since 2013
Eastern Oklahoma
Mitchell is an aquatic specialist covering from Metro of Oklahoma City to NE Oklahoma and Tulsa and a member or our team starting in 2012. Mitch has a degree in Wildlife & Fisheries from Northeastern State and was an intern for the Corp doing lake studies.
Jason Webber
Director of Support Services
Aquatic specialist since 2017
Serving Oklahoma and surrounding areas
Jason , a lifelong learner, has also been a teacher for 20 years. He retires from teaching with a Masters in the art of teaching mathematics to turn his attention to the aquatic environment full time. Jason still pursues coaching volleyball in his off time in Oklahoma City. Having worked with TurnPro Aquatics sinc 2017, he has found a love and curiosity for ponds and their natural characteristics. He believes the key to life's tranquility is the enjoyment of properly managed water. He constantly challenges his understanding to find balance to each unique aquatic experience.
Serving Oklahoma City and Western Oklahoma
Sam Barnes
Aquatics Specialist / ShoreSox Manager
Aquatic specialist since 2016
OKC Area / Guthrie
is an aquatic specialist covering the Oklahoma City metro and the Duncan, Lawton area. He studied a UCO and has been a member our team starting in 2016.
Kody Brannon
Aquatics Specialist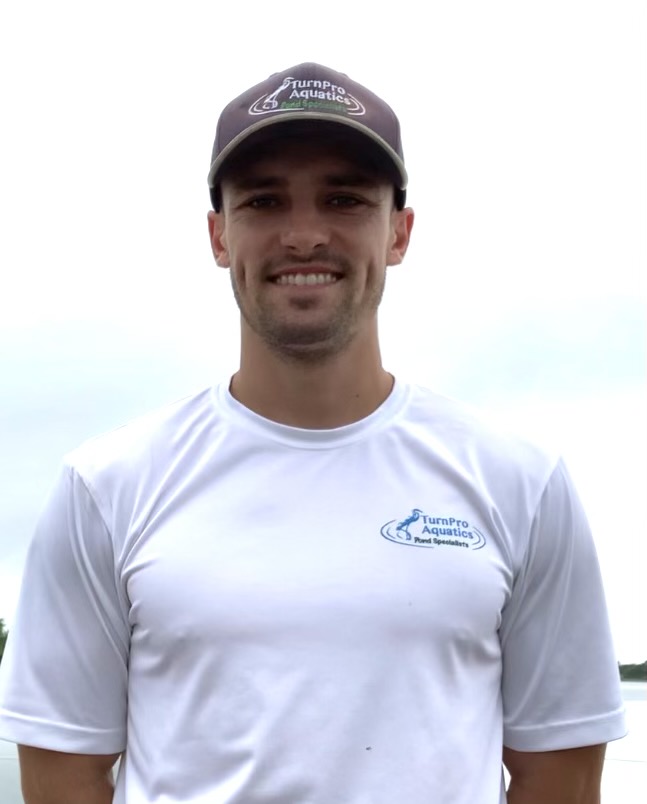 Aquatic specialist since 2021
OKC / Moore / Norman
Kody is our newest aquatic specialist. He's always out enjoying the outdoors when he can. He likes to go fishing, camping, and working out on his free time. He believes in hard work and customers satisfaction.
Jerry Fleming
Project Manager
Project specialist since 2020
Jeremiah is our project manager. He handles all the small construction projects for TurnPro Aquatics. In his free time Jeremiah likes to go fishing, play basketball, as well as lead individual skill sessions for young players. Jeremiah is a former college basketball player of East Central University that graduated with a degree in exercise science.
Austin Johnson
Aquatics Specialist / Fish Specialist
Aquatic specialist since 2012
Austin is an aquatic specialist covering the Metro of Oklahoma City, Austin has been with TurnPro Aquatics since 2011. Austin studied at the University of Oklahoma and his experience includes over 7 years as an asst. Golf course superintended.
Donnie Kidd
Systems Engineer
Systems specialist since 2022
OKC Area
Josh May
Aquatics Specialist
Aquatic specialist since 2017
OKC / Arcadia / Lawton / Kingfisher / Enid
Graduated from Cowley County Community College in Kansas then transferred to Southern Nazarene University where he got his degree in Business Administration in December of 2016. In his free time, Josh likes to play soccer and he's been doing it his whole life. He enjoys the outdoors, every opportunity he gets, he's outside enjoying nature.
Jordan Rettke
Systems Engineer Assistant
Systems specialist since 2021
OKC Area
Graduated in 2021 from Webster high school Tulsa ok. Jordan joined the team right after highshool to start his career in aquatic management and is very excited to further his knowledge everyday in the field. In his free time Jordan enjoys being outdoors fishing and riding his motorcycle.
Jerry Williamson
Aquatics Specialist
Aquatic specialist since 2022
OKC / Guthrie / Moore / Norman
Jerry Bio
Serving Eastern Oklahoma and Arkansas
Matt Pierce
Aquatics Specialist
Aquatic specialist since 2014
Eastern Oklahoma / Arkansas
Matt is an aquatic specialist covering Tulsa and the west Arkansas area and has been a member or our team starting in 2014. Matt has a degree in Biology from the University of Arkansas-Fort Smith.
Mark Rector
Aquatics Specialist / Systems Engineer
Systems specialist since 2020
OKC Area / Tulsa
Mark has worked in the Restaurant Business for 44 years. 15 years with The Tulsa Boys' Home. He has Coached Football and Baseball, mentoring young men for almost 3 decades. He is the Director of RBI/ World Baseball Outreach bringing the Love of Christ to At-Risk/ Inner City Kids through Baseball. Mark was Named Outstanding Mentor of the Year in 2018 by The Oklahoma Foundation for Excellence.
Derek Serowski
Aquatics Specialist
Aquatic specialist since 2020
OKC Area
Derek studied at Oklahoma Baptist University. He comes from a background in Exercise Science. Derek still pursues coaching volleyball in his off time. Derek is constantly learning every day. And, in his free time he is either with his kids or around some sort of volleyball related event. Derek enjoys getting to be outdoors and around the water.
Testimonials
You guys are great, our pond has been their since 1969 and never looked this good, We are happy campers and your customer service is great. Thanks again. ...
Fred Walden
John, Just a note to let you know that the pond is looking fantastic and I appreciate what you are doing to keep it that way. Thanks,
Thanks so much for the great work you and the team do to keep my pond looking great. Mitch did a tremendous job after taking over my service. The fishing was awesome this year and my new catfish have already quadrupled in size! My boys are having a blast on the pond every day. Thanks again and we'll see you in 2017! Thanks so much,
Jason from Glenpool
Thanks, John...we appreciate your looking out for us - there's no comparison in the quality of our lakes compared to the last few years. With all this 100+ temperatures we would be walking knee deep in algae. Your a blessing...
Thanks, John...
I'm wondering if you have a special connection with our God in heaven. We've been praying for rain, but it seems that within a day or two of you treating our lakes that we get rain. I would suppose that you pray as you work - it poured here early this morning and though I haven't been down to the lakes, I'm sure they must be full again..just a thought. Have a blessed day, we appreciate you and your attentiveness to our needs here at
Savannah Lakes.
John,
Thank you for all your services this spring and summer. The pond has never looked better. Everyone in the HOA is so very happy!!!
Hello, I hope you have a good Christmas Holiday. I will continue to use the services you provide. It did miracles to our 2 ponds, I cannot be happier with the outcome and clarity they have. They went from pure GREEN to clear, it is amazing and I would be more than happy to give you references if you ever need them to further your business. I will fax the contract back over the next couple days.
Thanks Again
Thomas -Claremore
It's unbelievable what you did with my pond, I just caught a 4 pound bass, my pond has become a dream come true!!!
Brad-Piedmont
Our HOA and residents are so happy with how quickly you go the pond in shape; we just didn't think it could be fixed!
Bob- Edmond
John, I have attached the CY 2010 Pond Maintenance Agreement. I met with both the SVR Pond Committee and our SVR HOA Board and you have our full support for the upcoming year. Due to your work and recommendations, the SVR ponds have been transformed into areas for all to enjoy.
Thanks,
Wylie-Edmond
My pond looks great all year around; you did a super job with the quality of the water and knocking out the cattails
Jason-Mustang
John, as you know I have many friends who fish my 20 acre lake, what you have done for water quality, weed control and the advice on fish management has been wonderful and that has been echoed by my friends who have been fishing my lake for 10 years!!!
Butch-Bristow
Thanks for what you have done with our pond, it changed overnight, unbelievable, and what I loved is that you come back and treat every two weeks, everyone on campus can enjoy the pond during the summer
Phillip- OKC Francis Tuttle campus maintenance
This lake has never been fishable in the summer since I lived here, which has been over 30 years, and now it looks great and we can fish and enjoy our lake, you have made it beautiful
Local resident- about the City of Marlow city park lake